Description
Our Freeride Bike – a bike that unites all elements. No matter if it is steep root sections, high drops, flowy jump-lines, or the relaxing after-work session. Whether bike park or home trail – just FULL SEND!
The Spindrift 4 AL is our interpretation of a modern Freeride Bike.
Whether sand, roots or stones, wet or dust-dry, the Spindrift 4 AL copes with every surface. And that does not only apply downhill. Uphill the bike stays on the ground and climbs up every trail with you.
Smooth as a flowing mountain stream. Brute like a roaring river. With the Spindrift 4 AL you send every line and stay always agile. In rough and steep terrain, you will rush over every obstacle with smoothness.
A bike that gets you up to speed and takes your breath away. You always find your line and take what you can, both downhill and uphill. With the Spindrift 4 AL you are unstoppable.
Flying is your element? Go for it, the Spindrift 4 AL takes you up in the air. No matter what maneuver you pull, the Spindrift 4 AL gives you a feeling of lightness. Airtime guaranteed.
Good looks are not everything. Our Spindrift 4 AL also impresses with its inner values and smart details. With quick-change chain guard, durable bearings and internal cable routing, you'll get more time on the bike than in your garage.
Thanks to the versatility of our Blend Alloy our Spindrift 4 AL also convinces with its elegant design. Many visible edges and flowing shapes paired with a futuristic logo guarantee envious looks on and off the trails.
High drops and hard landings can get your chain swinging pretty hard. Our newly designed chainstay protector absorbs them, eliminates noise and protects the chainstay from damage.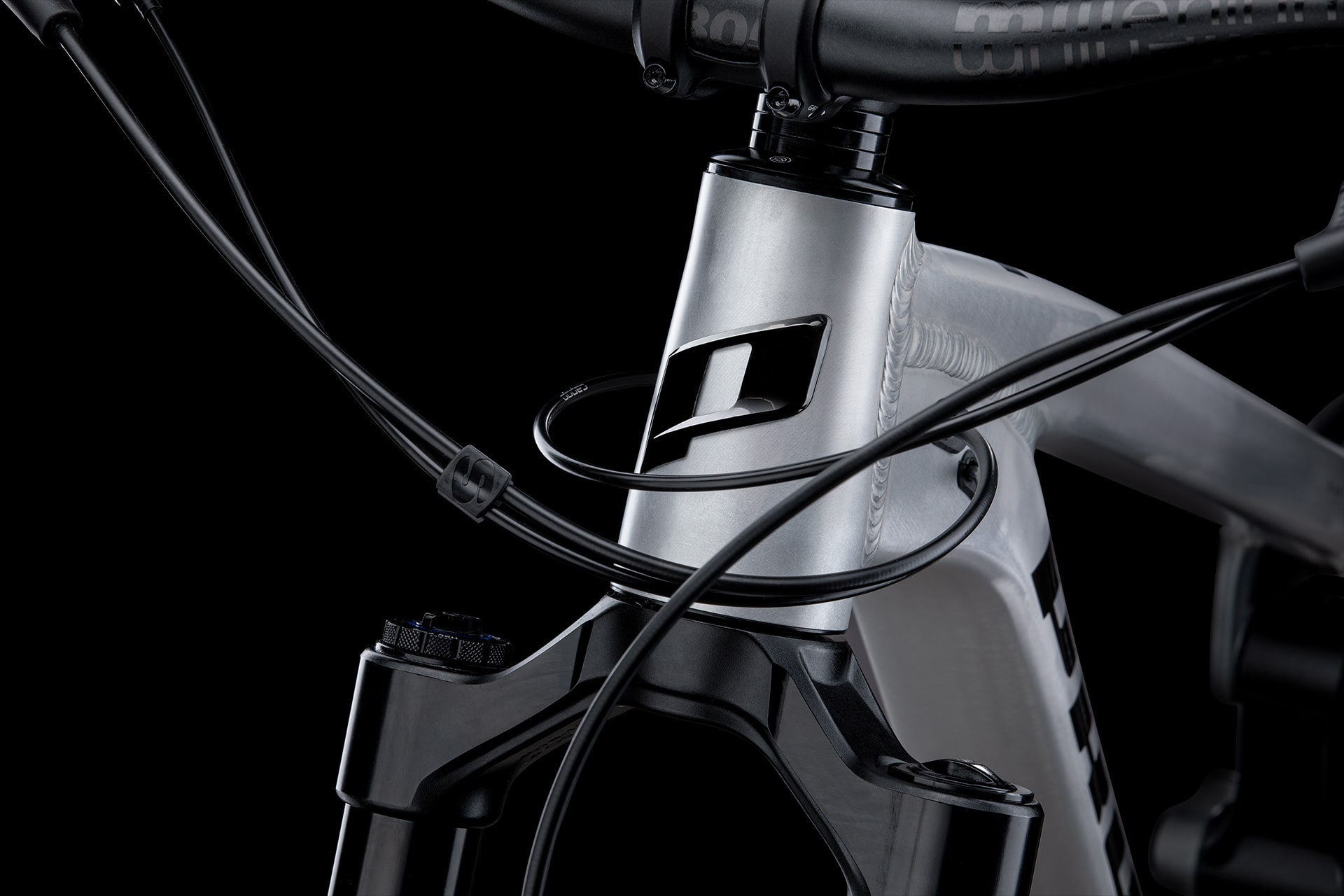 Internal cable routing became a standard for modern bikes. It is the smartest, safest and, above all, the cleanest way to route the cables. For the perfect look you can choose from three different head tube badges.
Intense bikepark action or local hometrail session. Massive jumpline or wet root passage, quick curves or steep drops. Your Spindrift 4 AL offers the performance you need in any terrain.